In this article, we will show you how to reset WordPress account password via login page, admin console and cPanel.
The first method requires access to the email associated with the WordPress account. If you are already logged into your admin console you will not need to access your inbox.
Finally, if you are unable to access your email or dashboard, you will have the option to change the WordPress account password from cPanel.
From WordPress
- Login
Go to the WordPress login page from https://domain.com/wp-admin (replace domain.com with your domain name) then click on "Lost your password?".

Enter your username or the email address used to create your WordPress account and click "Get New Password".

Check your inbox then click on the reset link in the email you received.

You will be redirected to a page where you can change your password.

Finally, log in with your new password and username or email address. You are ready.
- Administration Console
If you can sign in to your WordPress dashboard, you can update your password without using your email address.
To do this, navigate to your dashboard and click on "Users"

Then click on the user for whom you want to change the password

You can update your WordPress password even if you no longer have the old one. Just press the "Set New Password" button. Click on "Update profile" to validate the change
From cPanel
Your cPanel account offers a WordPress installation manager on Softaculous accessible from cPanel > Software > WordPress Manager

Click on "Manage Users" of the selected WordPress installation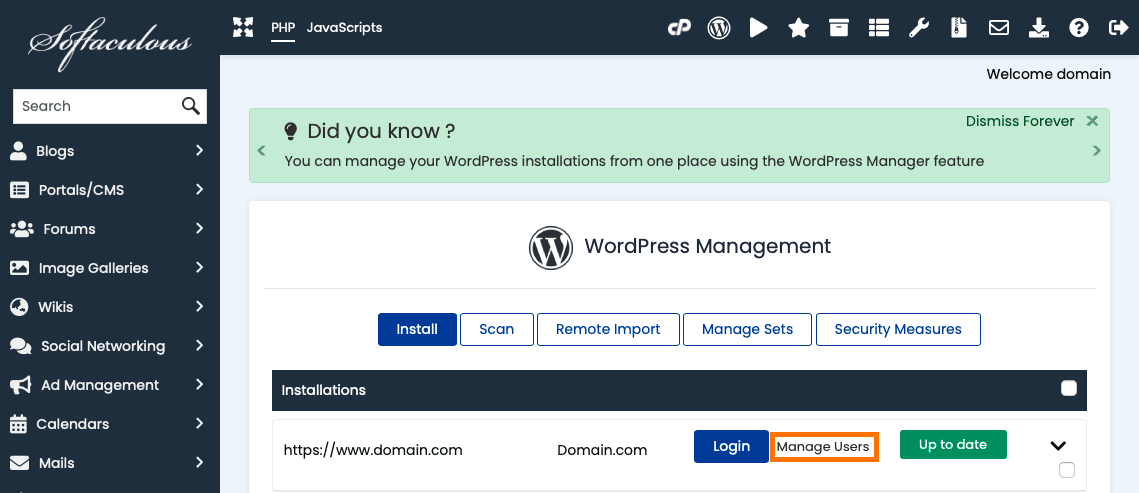 On the next window, click on "Change Password" then select the username affected by the change and enter a new password. To validate, click on "Save".